We are living in a "new world," where almost everything is right in our hands. From food to shopping, and now healthcare is also becoming digital. Yes, we are talking about the futuristic advancements in the healthcare industry, we're talking about telehealth. It won't be wrong to say that telemedicine is the new way of accessing healthcare. You have an appointment with your doctor, but you are miles away, no worries, the branch of telemedicine will make it possible for you. Whether orthopedics or any other branch of science, telemedicine is effective for all. This blog will delve into the role of telemedicine in orthopedics. However, before that, we will have a brief look at what Telemedicine is.
What is Telemedicine?
The use of technology to deliver medical healthcare services can be defined as telemedicine. Here, electronic and telecommunication technology is employed to make it easy for the clients to access healthcare services. We must say that it is the new method of availing healthcare services and guess what, it has proven effective.
Now, if you are thinking that telemedicine is only for consultation, then you are wrong. This technology can be as simple as getting help from your doctor via chat and as advanced as controlling a surgery remotely.
A survey suggests that over 70% of hospitals in the US stay connected to their patients remotely via video conferencing and other technologies. This is how useful telemedicine is.
In the COVID-19 pandemic, telemedicine has played a pivotal role in providing timely guidance to people who are suffering from health problems. During that period, people were not allowed to go outside, and hence, telecommunication and other technologies were used by doctors and patients to stay connected.
What is the Role of Telemedicine in Orthopedics?
Orthopedics is the field of medicine that deals with the musculoskeletal system and problems arising within that. This field has been greatly benefited by telemedicine. Well, if you think that telemedicine is new then this is not the case. Studies have found the history of telemedicine way back around 50 years ago. However, during that period, it would not have been as advanced enough as it is now. We call the use of telemedicine in orthopedics as "tele-orthopedics."
Telemedicine is not only cost-effective but also provides a means for patients to connect to their doctors without going anywhere. Sometimes, when immediate consultation is required, telemedicine can be an effective tool.
Above all, for patients who cannot travel or move much, virtual rehabilitation (Telerehabilitation) can be the savior. This is how telemedicine holds the importance for the field of orthopedics. Since it was used for the first time, telemedicine has evolved a lot with newer technologies. We must say that this change is revolutionary, and many people have benefitted.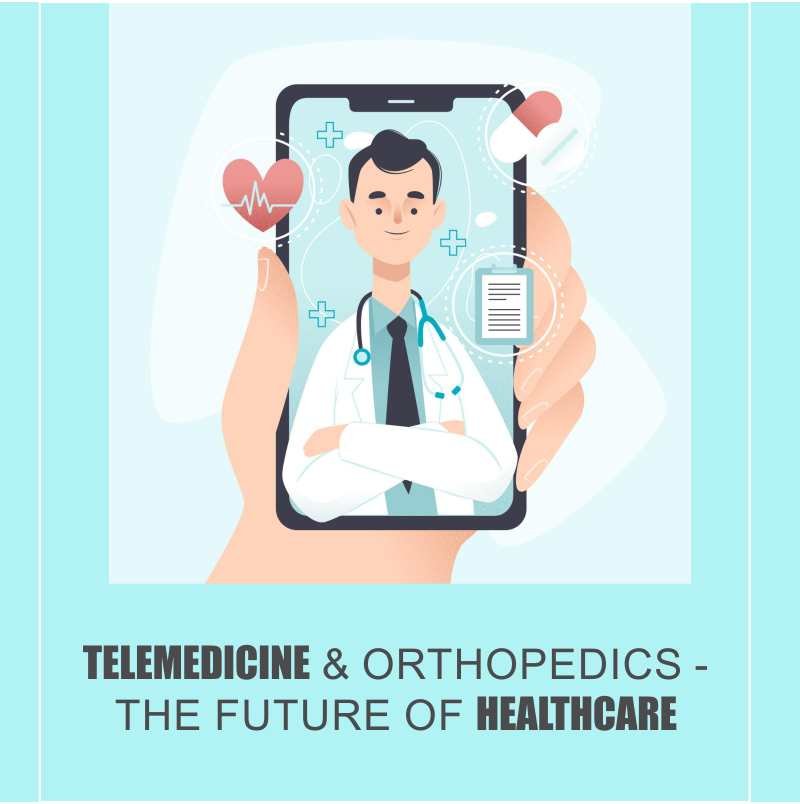 How Telemedicine in Orthopedics Can Be Used?
Before we discuss the use of telemedicine in orthopedics, we must tell you that in-person hospital/clinic visits cannot be completely avoided despite the evolution of telemedicine. However, telemedicine has played a significant role in improving follow-up visits and emergency consultancies with the doctor.
There are many applications of telemedicine in the field of orthopedics. Ways by which telemedicine can be utilized in orthopedics include:
Teleconsultation for diagnosis
Post-surgical follow-up visits
Treatment consultation
Virtual rehabilitation
Teleconsultation for doctors seeking special advice from specialists
These are some of the most common applications of telemedicine in orthopedics. There has been a significant rise in the number of teleconsultation appointments after the COVID-19 pandemic. In other words, we can say that after COVID-19, people began to understand the importance of telehealth. You might wonder knowing that in many countries, telemedicine has also been successfully used for the remote diagnosis of fractures. In rural areas, many doctors have managed non-surgical fractures through telehealth technically by guiding a practitioner. We must say that this is still a beginning a lot is yet to come.
How Telehealth Can Benefit the Field of Orthopedics?
Telehealth technology has a number of potential benefits not only for the field of orthopedics but also for the other healthcare sectors. It has made healthcare facilities easily accessible in the rural areas. Specialist doctors who cannot visit villages and rural sectors can easily consult people through video conferencing. Besides this, telehealth is also cost-effective, and quick decisions can be made in emergencies. More than that, the ease and convenience with which this technology can be used has made it popular.
Before COVID, telehealth was merely an option for doctor's consultation, but after that, it has become a choice. This is how telehealth has changed in 2-3 years of the pandemic.
Here are some of the proven benefits of virtual care for orthopedic patients:
Saves Time
In this era where everyone is so busy that they don't even have time for themselves, telehealth has proven effective. Because of this, people need not take time off from work or leave the comfort of their home on an off day.
Easy Access
The next best thing about telehealth for people suffering from orthopedic conditions like arthritis or knee pain is that they can consult with the specialist easily without going anywhere. When it comes to routine checkups, virtual doctor visits may be a better option.
Health Monitoring Using Apps
Telehealth has become advanced enough that with easy-to-use mobile apps, patients can monitor their health conditions and consult if required.
Remote Patient Monitoring in serious cases
Sometimes, in emergency situations, especially in rural areas, visiting a hospital may not be feasible as it is far away. In such cases, video consulting can help the patient get basic care and get enough time to reach the hospital.
Siora Surgicals Pvt. Ltd. is a leading manufacturer of a CE-certified range of trauma implants and instruments. Operating for over 3 decades, the company has served hundreds of clients in over 50 countries. It keeps working hard to expand its international market reach by increasing its distributor count in different countries. Siora is also a trustworthy OEM/contract manufacturing service provider across the globe.